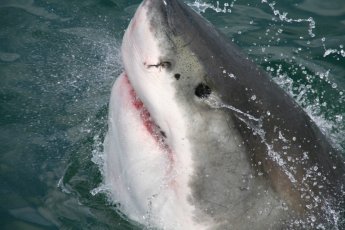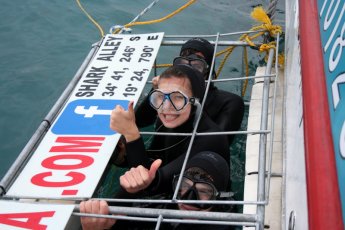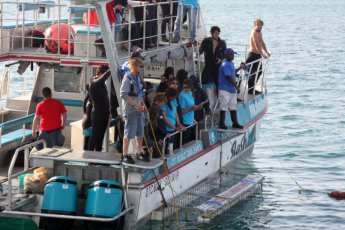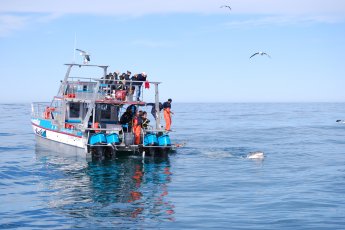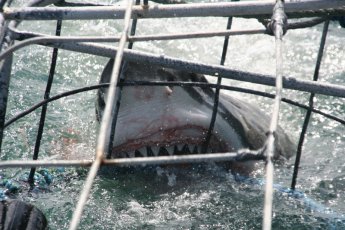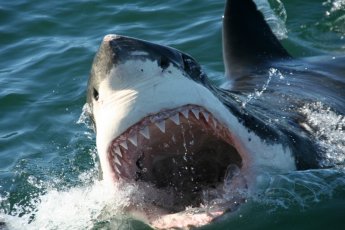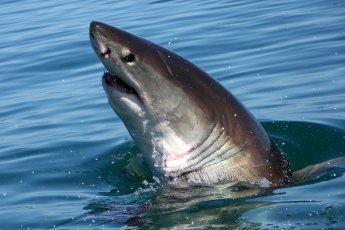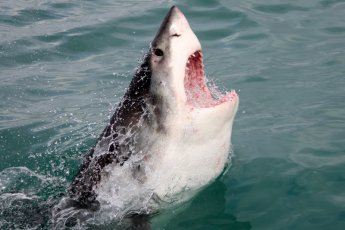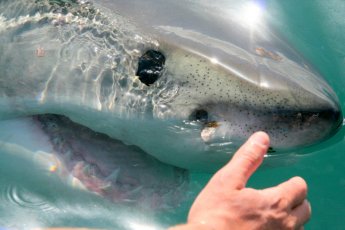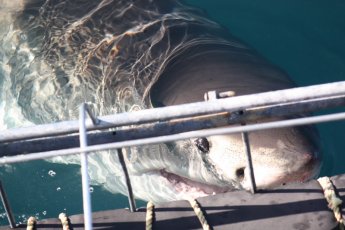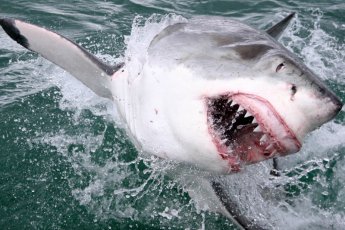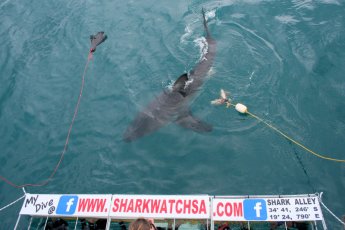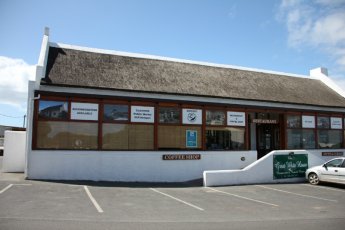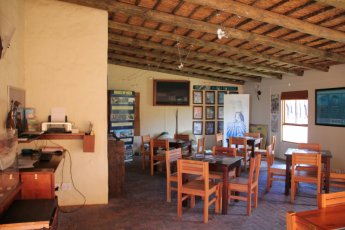 Description
Marine Dynamics is a Shark Cage Diving company based in Kleinbaai, a small harbour town, part of Gansbaai in the Western Cape of South Africa. This area is known as a hotspot for the Great White Shark and the best place in the world to see and dive with these iconic creatures in their natural environment.
Sister company Dyer Island Cruises is a boat based Eco-Marine Tourism Company, allowing visitors an unforgettable experience to see the Marine Big Five - whales, dolphins, seals, penguins and sharks, as well as many species of rare pelagic birds that reside close to the shore.
Marine conservation has historically been grossly neglected and this vacuum in the scientific arena necessitates new, exciting and ongoing research projects to find out more about our precious marine species and the ecosystems in which they live. And this is exactly what we do! Every trip on either our shark cage diving or whale watching boat is an awesome adventure and an exciting crash-course in marine biology, educating you about the trends, traits and troubles of the endangered Great White Shark and our other amazing marine species, as well as the ecosystem!
Packages
Shark Cage Diving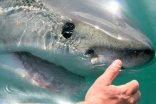 The Slashfin resembles the remarkable qualities of the Great White Shark species after which it is named: sleek, streamlined and elegant with amazing power and steadiness to graciously slice through the water and effortlessly endure the most extreme sea conditions.
Features Available
per person additional for return transport from Cape Town.
More Details
The Shark Cage Diving Experience
So...you want an eyeball to eyeball encounter with a Great White?
Boy, you are in for much, much more than that on board Slashfin! Our marine biologists and expert crew members will not only show you where these mysterious and misunderstood apex predators hunt and hide, but they will also explain to you how and where they feed, breed and breach.
A trip on Slashfin is a combination of goosebump thrills, education and relaxation on a luxury boat in the company of experienced experts and researchers! They will show you how to distinguish between a male and female shark and how to identify a specific shark by its unique dorsal fin and scars. The 20 - 25 minute boat trip to where the activity is to take place, is by itself an exhilarating adventure.
Named after a legendary 3,3 m male shark with a very distinctive dorsal fin, the Slashfin is a unique, multi-million rand aluminium boat custom designed for speed, stability, safety and space and can comfortably accommodate 40 passengers and the crew at a time.
On any given day, we also usually see at least two or more members of the Marine Big Five - sharks, dolphins, whales, seals and penguins, as well as several bird species.
Here is a brief breakdown of what to expect:
Before the trip guests meet at the Great White House in Kleinbaai
You will receive breakfast or lunch and register your wetsuit size
Guests receive a pre-trip safety briefing about what to expect during the trip and a biological background on great white sharks
We then take a 200m stroll down to the harbour to board Slashfin
Travel time to Dyer Island is approximately 20 minutes, with the shallows being a short 10 minute ride (where we anchor depends on where the sharks are)
On average, we anchor for 2 hours, but this depends on shark activity, conditions, as well as number of divers
Weather permitting, we take a quick trip through the infamous Shark Alley
Lastly, a debrief in the Great White House and a celebratory beverage to toast the occasion!
Boat & Cage
Our Boat - Purpose Built for Best Performance
The Slashfin resembles the remarkable qualities of the Great White Shark species after which it is named: sleek, streamlined and elegant with amazing power and steadiness to graciously slice through the water and effortlessly endure the most extreme sea conditions.
Slashfin is the first aluminium boat of its kind in the industry, specifically designed and built for low maintenance, stability, speed and superior safety and comfort.
The boat can comfortably accommodate 40 passengers plus the crew at a time.
The 46 feet (14m) long catamaran vessel was specifically built for the Kleinbaai slipway and is aimed at providing passengers with that veritable lap of safety and luxurious comfort while enjoying the wild, windswept open seas and its amazing wildlife.
Slashfin is powered by four large four-stroke 300 hp outboard engines, and is equipped with the best electronic equipment to navigate the area.
Built in 2010 by Veecraft in Cape Town, she was designed by well-known naval architect, Pieter Volschenk, with the input of the experience and expertise of Marine Dynamics and others in the industry.
The Cage
Taking the plunge to actually get into the cage can be a bit scary if it is your first introduction to the iconic top-predators of the ocean, but rest assured. It is extremely unlikely that a shark will be able to break into a cage, or will be more interested in you than the juicy tuna head or decoy that our expert bait handler throws into the water to lure them closer. The bait is not fed to the sharks – it is merely used to entice them to come closer to the cage and is pulled back before they can get to it. Never in the 15 years of the business has a Great White Shark shown anything but mere cautious curiosity in any of the tourists in the cages!
The sturdy steel cage is professionally engineered and made out of a 25mm galvanised mild steel covered with 10mm galvanised mild steel security mesh.
It has no sharp edges on which a shark can injure itself.
The cage is firmly secured to the side of the boat and divers can easily get out whenever they want to.
The cage never sinks or floats away.
The cage can accommodate 7 divers at a time
The steel hand and foot bars inside the cage offer ample grip and support to pull yourself up or to push down.
Your head will never be more than a metre under the surface and you can decide when and how long you want to stay underwater.
The Gear
Trying to put on a damp, sticky wetsuit that somebody else recently peeled off his/her body is probably one of the physically hardest and psychologically most unappetising and repulsive things to do. Apart from the mammoth battle to get into it - it's hard enough when its bone dry! - the mere idea of a stranger's body odours and excretions rubbing off on you can be quite revolting.
Marine Dynamics has invested in over 100 wetsuits so that we can guarantee a clean dry wetsuit for every client. None of our clients wear someone else's skin! We not only pride ourselves on our pioneering initiatives to combine sustainable eco-friendly marine tourism and adventure with research, education and conservation, but also the superior standard we set and maintain regarding unrivalled quality of service, skills and products.
The Diving Area
The Gansbaai coastline - especially the area around Dyer Island - is not only world famous as the best place in the world to see (and dive with) the Great White Sharks in their natural habitat, but also for its abundant marine life and rare pelagic bird species. The term Marine Big Five originated here thanks to the huge amount of sharks, seals, dolphins, penguins and whales that flourishes in these waters! The best time of year to undertake a "marine game viewing tour" is between May and December when pods of dolphins and Southern Right Whales visit our coastline.
The Great White House
The name White House says it all - whether you are in Great White Shark territory or in the States! It represents status, style, superior service and stately governance to protect the vulnerable...
In Gansbaai, this is exactly what our own Great White House represents...to our threatened Great White Shark population and other endangered marine species.
Customers who viewed "Shark Cage Diving South Africa" also viewed:

The Abseil Adventure- An insane experience of adrenaline and achievement: a 112 meter controlled abseil descent...

Cape Town, South Africa is rated as one of the most beautiful cities in the...